Back to top
News and Announcements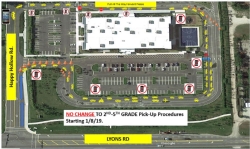 Changes to Dismissal Procedures starting 1/8/2019

There will be changes to the procedures, and locations for pick-up starting on 1/8/19.
The changes will impact Grades K and 1. And will also Impact Middle School.

Grades 2-5 will remain unchanged, and since it is the easiest to explain, we have attached a map confirming the procedures for 2-5.
Other grade levels changes will be published tomorrow.