Back to top
News and Announcements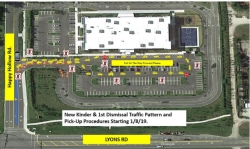 K & 1st Dismissal Procedure Changes

Kinder and 1st will no longer go to the carline. At 2:30, 5 days a week, Kinder & 1st graders who are NOT in after-care, who are NOT in sibling care, will be dismissed through the front office.
Starting January 8, 2019, All Kinder & 1st grade students will dismiss through the front office.
Rather than bringing Kinder & 1st to the back carline, they will step out of their classrooms and wait in the hallway immediately perpendicular to the main office corridor. Ms. Denise will be at the double doors fetching the students that will be called by a staff member just outside reading your green tags. Staff will continue to supervise students entering cars. It is important that you NOT get out of your cars. It is also important that ALL other traffic park in a designated parking spot.
Drivers will enter through the first entrance, as always but will arrive to the LEFT of the cones.
You will proceed straight until you reach the turn off to enter the second row of parking spots. Continue straight to the end of the second row of spots, and loop around to your left, heading south in the first row of parking spots. You should then be facing South and toward the main office entrance. Pull all the way forward just past the office doors.

The attached map is quite self-explanatory, however, ANY questions or concerns should be brought to Administrations attention immediately.
ALL CARS MUST BE FACING SOUTH AND PASSENGER SIDE DOOR FACING THE CURB.