Back to top
News and Announcements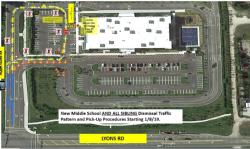 6th & 7th Grade Dismissal Procedures change effective 1/8/2019

Attached, please find the map and procedures for the upcoming dismissal change for our Middle school and students with siblings.
ALL MIDDLE SCHOOL STUDENTS AND STUDENTS WITH SIBLINGS WILL REPORT IMMEDIATELY TO THE PE ROOM/PE ROOM HALLWAY AND DISMISS THROUGH THE SIDE ENTRANCE.
Once you have turned onto Happy Hollow Rd., Middle School & Sibling parents will continue past the first school entrance to the second entrance. This is the same entrance that was the exit for the car line.
A right hand turn will be made turning Right again into the parking area closest to the building. (See attached Map). Cars will pull forward past the PE room doors as indicated on the map. Staff will be ready to retrieve the students and send them to their cars. IT IS IMPERATIVE THAT ALL CARS ARE FACING EAST UPON PICK-UP. Continue straight after picking up, and make a right, exiting the campus using the same exit as if you were visiting the office.

The map is really self explanatory, however, If I can be of assistance, please feel free to reach out. Be sure you have your green dashboard signs ready. If you need another, please let me know.